The RTG Wireless Connection
RTG "fixed wireless" high-speed Internet service reaches your home or business via a wireless signal sent from one of our fixed wireless broadcast radios that are placed on Frontier Telenet towers located throughout Sherman, Gilliam and Wheeler Counties. Fixed wireless (also known as wireless fiber) enables a broadcast point to send Internet to multiple receiving points with an aggregate capacity of 100 Megabits per second throughput - speeds that are significantly faster than DSL or cable internet (and there is just no comparison to satellite).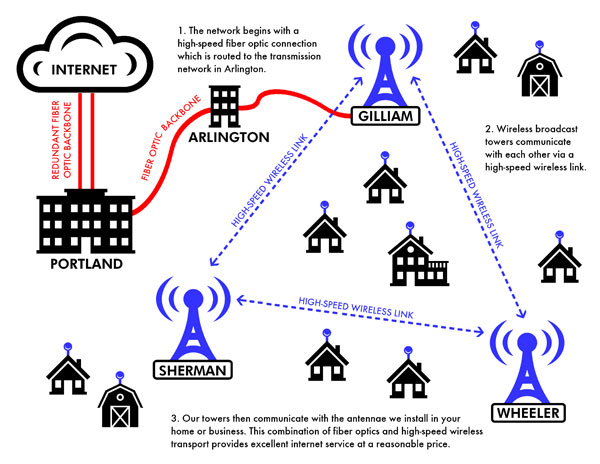 To connect you to RTG's fixed wireless network, we will install a small receiving radio on the roof or side of your home or office. The radio antenna will be pointed at one of our local towers to establish your wireless internet connection (it is necessary to have a line of site from our broadcast radio to your receiving radio). A single Ethernet cable will run from the receiving radio outside your home or business to a inside located small power supply Then an additional cable from the power supply can plug directly into your computer or into a in home wireless router so your RTG high speed internet connection can be shared among multiple computers and other internet capable devices without extra fees.
RTG fixed wireless internet service is "always on". You don't have to turn it off to use the phone. And the weather doesn't impact our radios, so your internet conection is uniterrupted and always ready when you need it.
RTG can deliver our fixed wireless internet service to you because your County established the Frontier Telenet Telecommunications network several years ago in order to provide Internet connectivity to local schools and County offices, improving communications and and public safety. RTG is partnering with Sherman, Gilliam and Wheeler Counties to extend that network and has now 25 broadcast locations to provide a wide regional network of high speed Internet access coverage to local homes and businesses. The Frontier Telenet network is connected to fiber-optic Internet pipeat the Bonneville Power site above Arlington, which allows us access to all the bandwidth you demand. Without the support of your County and Frontier Telenet, we simply could not afford to bring you such an advanced internet service platform. That's why we provide a portion of your monthly service fee to Frontier Telenet so that your Tri-County owned network can continue to grow and better support your community.
Depending on your specific location and surroundings, professional installation can cost as little as $149.00. Line of site is required for service but we have several ways to extend our wireless signal down into valleys or though trees. In some situations, additional mounting hardware and/or installation time may be required at an additional cost. Call 877-656-3532 to request a free site survey to determine your coverage eligibility and installation cost.